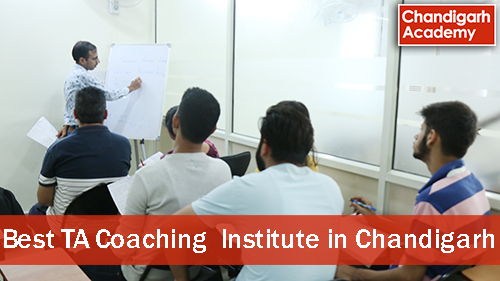 Territorial Army Coaching in Chandigarh – ChandigarhAcademy provides the best coaching for Territorials Army Exams. We have specials professors faculty which provide high-quality Territorial Army Coaching in Chandigarh Academy.
We provide 100% practical & result oriented training in our academy Our Work study module is based on  practice exam training, daily mock test, Provide student portal & up to date study material which help the candidate to crack.
TA Coaching in Chandigarh
Full Study Materials + Daily Classes + 100% Results
Contact us at for more information

– 9915109266
Territorial Army Eligibility Conditions
Only Indian male citizens and Ex-service officers who are medically fit can apply for it.
Age Requirements – 18 to 42 years.
Qualifications For Territorial Army – Graduate from any recognized university.
Employment Requirement of T.A. – Gainfully Employed in any of the Central Govt/Semi Govt /Pvt Firm/Own business/Self Employed.
Serving Employees of  The Police or The Paramilitary Forces are not eligible for the T.A.(Territorial Army )
Territorial Army Selection Process
The selection process of Territorial Army Is based on the selection process which comprises of three steps:-
1. The Written Examination  –
Written test duration is of : Two Hours
Maximum marks in the paper one can obtain is : 100 Marks
Part – I of the Question paper is made up of the following Sections
Short Essay's: The Essay is on current affair ( i.e. it could include national and international events.)
English comprehension and Language Arrangement of Sentences (consisting of 04 marks).
Comprehension/Passage (consisting of 06 marks).
Fill in the blanks. ( consisting of 10 marks)
Part II of the Question Paper consists of
Objective Type Questions
It includes General Awareness which consist of  the following Subjects
1.Economics
2. Politics
3. Defence
4. Sports
5. International Events etc.
6. Reasoning –verbal/non- verbal
Next Step os the Preliminary Interview Board – PIB
And the Final Step is The  Service Selection Board- SSB
The written exam duration is of two hours. Maximum mark is hundred (100). The question paper has two sections (I & II.) First section 40 Marks, Second section 60 Marks
First sectioncomprise in two parts (A & B). For this the allocated marks is forty (40 marks)
Part (A)     Essay writing.
One has to write an essay in about three hundred (300) words out of 3-5 essays. The essay related to current scenario (Includes issues related to current Political / Economic affairs National/ International)
Part (B) is English comprehension & Language.
English comprehension Small passage / Synonyms and Antonyms / Sentence sequence in PQRS form / a paragraph with Fill in the blanks.
Second section – Consists of General Knowledge.
Already employed candidates fulfilling all the eligibility criteria can apply in retort to the advertisements which are published in the leading national newspaper & The Employment News in the months of June – July and December – January every year. Applications are then to be sent to the concerned TA Group Headquarters.
After processing of applications, the eligible candidates are called for Preliminary Interview Boards held at the various respective Territorial Army Group Headquarters ( which are located at Pune, Kolkata, Chandigarh, Lucknow). Selected candidates are then to go through the SSB Interview, Medical Board & Police Verification. The successful candidates are then granted commission by the President of India.
Ex – Defence service officers can also join the Territorial Army. They need to apply directly to The Additional Directorate General of The T.A.  and need to appear before the Board of Officers who is presided by the Additional Director General of T.A. at New Delhi . Selected Officers are then to be cleared by the various Medical Boards, before they can be granted a commission in the Territorial Army .
All such officers are given the  benefit of their previous commissioned service in the Services and their respective Arms on joining the Territorial Army.
APPLY FOR Territorial Army
HOW TO APPLY: Gainfully employed civilians fulfilling the above eligibility criteria can apply in response to advertisements published in leading national newspapers & The Employment News in May-June every year. All desirous civilian candidates can obtain Application Form from Employment News or download from the website (FREE OF COST) and send it alongwith self addressed envelope (28 x12 cms) with postal stamps affixed worth Rs. 27/- and two passport size photographs (No other cost for submission) to the respective Territorial Army Group Headquarters as per the choice of following examination centres. NO OTHER DOCUMENTS TO BE ATTACHED WITH APPLICATION FORM. CENTRES OF EXAMINATION :

Candidates should note that no request for change of centre will be granted.
While filling in Application Form, the candidates should carefully decide about choice for the centre for the examination.
The eligible candidates shall be issued an Admit Card and will be sent by post by the respective Territorial Army Group Headquarters.
SELECTION PROCEDURE 
Territorial Army
TA Coaching in Chandigarh
Full Study Materials + Daily Classes + 100% Results
Contact us at for more information

 – 9915109266

Candidates whose application forms are found correct will be called for screening (written exam followed by interview only if passed in written exam) by a Preliminary Interview Board (PIB) by the respective Territorial Army Group Headquarters. Successful candidates will further undergo tests at a Service Selection Board (SSB) and Medical Board for final selection.

Candidate who qualify in written test of Preliminary Interview Board are required to bring the following documents in original alongwith attested copies at the time of Preliminary Interview Board:
All educational qualification certificates (Matric onwards).
Latest physical fitness certificate from a registered MBBS Doctor.
Copy of Identity proof with photographs (Voter ID/PAN Card/Passport/Driving license etc).
Domicile/ Residential proof.
Certificate for proof of age (Matric/ Senior Secondary mark sheet & certificate for verification of date of birth).
Service certificate by candidates employed in Central Govt/ Union Territory/ State/Semi Govt/ Private Sector Authenticated by Head Office alongwith No Objection Certificate by the department as per format given below.
Self-employed candidates or having own Business are required to submit an Affidavit on Non-Judicial stamp paper of minimum value duly attested stating nature of self-employment and income earned annually along with photocopy of PAN Card.
Self employed candidates are required to submit an Affidavit on Non-Judicial stamp paper of minimum value duly attested stating nature of employment and annual income alongwith photocopy of PAN card and self certified character certificate.
Candidates whose names vary in documents should submit copy of Gazette notification of India/ State showing the correct name or an affidavit duly supported by newspaper cuttings
Employees of Railways are required to submit No Objection Certificate authenticated by Railway Board.
FOLLOWING APPLICABLE CERTIFICATE BE COMPULSORILY PRODUCED AT THE TIME OF INTERVIEW:-
Certificate to be Rendered by Candidates Employed in Central Government, UT, State Government Duly Authenticated by Head of Office.
Certificate to be Rendered by Candidates Employed in Private Sector (To be Authenticated by Head of Office).
Affidavit to be Rendered by Self Employed on Non-Judicial Stamp Papar of Minimum Value Duly Endorsed by Notary.
Character Certificate to be Rendered by Self Employed Person. (Self Certified by the Candidate).
Risk Certificate.
EMBODIMENT FOR TRAINING:
One month basic training in the first year of commission.
Two months annual training camp every year including the first year.
Three months Post Commissioning training within first two years at IMA, Dehradun.
TERMS AND CONDITIONS OF SERVICE:
Commission is granted in the rank of Lieutenant.
Pay and Allowances and privileges will be same as Regular Army Officers when embodied for training and military service.
Promotions upto Lt Col by time scale subject to fulfilling laid down criteria. Promotion to Colonel and Brigadier by selection.
Officers commissioned in Infantry TA may be called out for military service for longer duration depending on the requirement.
Service benefits of  
Territorial Army
Following incentives and service benefits are available to Territorial Army:-
• Promotion to higher ranks as per authorization.
• Free rations, CSD facilities and medical facilities to self and dependents when embodied for training, military service or on Permanent Staff.
• Facilities of leave, leave encashment, accommodation and leave travel concessions when embodied for training, military service or on Permanent Staff.
• Entitlement to all medals and awards as applicable to the Regular Army.
• Rank Pay as applicable to Regular Army.
• DA as applicable during service embodiment.
• Special increments on completion of 3 to 5 Annual Training Camps.
• Entitlement of pension for officers with 20 years and JCOs and Other Ranks with 15 years aggregate embodied service (actual physical service).
• Facilities of Army Welfare Housing Organisation after 10 years of embodied/ physical service.
• Terminal gratuity at the time of discharge/ retirement (other than civil Govt employees).
• Ex-servicemen status and free medical facilities to pensioners.
Certain State Govts and Departments give the following incentives to TA personnel:-
• Cash awards varying from Rs 2500/- to Rs 5000/- by State Govts on award of TA Decoration/ TA Medal. • Mufti allowance and lump sum daily allowance by departments like ONGC and IOC.
SERVICE EMBODIMENT
All personnel of Infantry and Departmental TA will be called out for service embodiment by the Central Government or the authority empowered by it to do so, on the eve of National Emergency or for Internal Security duties and training exercises. Failure to report for service on such occasion is punishable under the Territorial Army Act 1948.
Territorial Army personnel are entitled to the following benefits from the Defence Estimates during embodiment for training and service embodiment:-
• Pay and allowances and Service Benefits – When embodied as applicable to Regular Army.
• Camp allowance is given per day when attending camps or courses of instruction (For Officers).
• Increment On completion of 365 days of physical service.
• Bounty Rs 450/- to Officers of infantry units, on completion of minimum 80% of annual training camp every year.
• TA Group Insurance benefits to personnel of non-departmental TA units.
• Terminal gratuity: After completing 5 years of physical service or 10 years of total service.
• Pension: On completion of 20 years physical service to officers and 15 years to JCOs/OR other than civil Govt. employees. • Family/disability Pension is also admissible as applicable to Regular Army.
• Leave as admissible to Regular Army personnel during embodiment of service and appointment on permanent instructional staff.
• Accumulation and encashment of leave accrued during the above period, as per terms and conditions laid down from time to time.
• Ex-servicemen status to pensioners and disability pension holders and Gallantry award winners.
• Free Medical treatment to self and dependants in respect of all pension holders.
• Outfit allowance: @Rs 6000/- at the time of commissioning and after every 7 years of physical service or 10 years of commissioned service to officers.
• Medals and Awards as applicable to Regular Army. In addition, TA officers are entitled to TA Decoration on completion of 20 years.
About Territorial Army
The Territorial Army was raised by the Britishers in 1920 through Indian Territorial Act of 1920 and it was org into two wings namely – 'The Auxiliary Force' for Europeans & Anglo-Indians and 'The Indian Territorial Force' for Indian Volunteers. After Independence Territorial Army Act was passed in 1948 and the Territorial Army was formally inaugurated by the first Indian Governor General Shri C Rajagopalachari on 09 Oct 1949. This date is being celebrated as Prime Minister's TA Day Parade every year.
The Territorial Army initially had various types of units such as Armed Regt (TA), Infantry Battalion (TA), Air Defence (TA), Med Regt (TA), Engineers Field Park Coy (TA), Signal Regiment (TA), EME Workshop (TA), Coast Battery (TA), ASC GT Coy (TA), ASC Compo Pl (TA), AMC Field Ambulance (TA), by 1972 these units have either been disbanded or converted to Regular Army except Inf Bn (TA).
The Territorial Army is part of Regular Army and its present role is to relieve the Regular Army from static duties and assist civil administration in dealing with natural calamities and maintenance of essential services in situations where life of the communities is affected or the Security of the Country is threatened and to provide units for Regulars Army as and when required.
Presently the Territorial Army has strength of approx. 40000 persons comprising of Departmental TA units such as Railway, IOC, ONGC, Telecommunication and General Hospital and the non Departmental TA units of Infantry Bn (TA) and Ecological Bn (TA) affiliated to various Infantry Regiments.
The TA units were actively involved in 1962, 1965 and 1971 operations. The "Terriers" have also taken part in OP-PAWAN in Sri Lanka, OP RAKSHAK in Punjab & J&K, OP RHINO and OP BAJRANG in North East in a most active manner. Departmental units came to the aid of the civil authorities during Industrial unrest and natural calamities, most famous being earthquake in Latoor (Maharastra), Uttarkashi in Garhwal Himalaya and the Super Cyclone in Orissa. The Ecological units have arrested man made environmental degradation by planting 2.5 crore trees over 20,000 hectare of land in Mussoori Hills & Pithoragarh (UP), Bikaner & Jaisalmer (Rajasthan) and ravines of Chambal in Madhya Pradesh.
Men of TA have taken active part in various adventure activities, famous one being scaling of Mt Tengchen Khang (6010 Mtr) in West Sikkim by Jt-Indo-British TA Mountaineering Expedition in May 98.
The officer and men of the Territorial Army have been decorated for their gallantry and distinguished services. So for they have earned 02 Ati Vishisht Seva Medal (AVSM), 15 VSM, 05 Vir Chakra, 13 Sena Medal, 25 Mentioned-in-Despatches and 43 COAS commendation card.
Many industrialists, politicians and eminent personalities have been members of the TA. The force also has the honour to appoint 11 officers as Hony ADC to the President of India.
 Best Territorial Army Coaching Academy in Chandigarh
Name  – Chandigarh Academy
Address – SCO-54-55, 3rd floor, Sector-34-A, Chandigarh, India
Phone Number – 9915109266